The summer of 2019 has been synonymous with home success for the France A Men's Team.
At first, in Le Touquet, during the FIH Series Finals in June, then, in Cambrai, for the EuroHockey Championship II at the beginning of August.
The French men's hockey team will begin next begin preparation for the Olympic Qualifiers in Lille.
This training camp marks the beginning of two months of preparation before playing the games that will decide whether or not France will return to the Olympic Games after 48 years of absence.
As the coach of the French team, Jeroen Delmee, points out: "There is no time to lose, the success at the end of October will go through an individual progression, which will be the result of hard work in each training and every day. "
Discover the list of 24 players who will participate in this first rally of the season.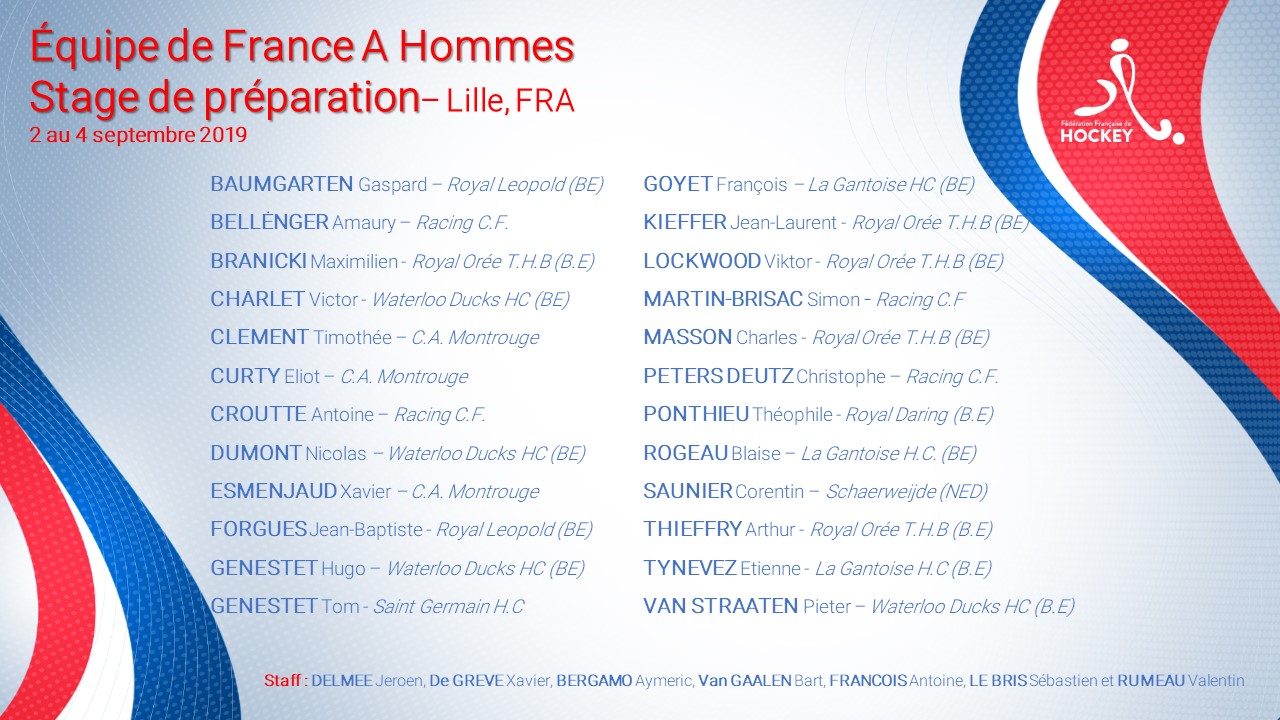 For this first stage of preparation, Jeroen Delmee chose to rely on the group that participated in the European Championship a month earlier. Indeed, of the 24 players selected, 18 were already in the game at Cambrai.
The selection is completed by the returns of Gaspard Baumgarten and Amaury Bellenger, who participated in the FIH Series Finals, but who could not be present at the European Championship due to injury.
Coach Delmee also chose to rely on three players who played in the EuroHockey Junior Championship this summer in Valencia and won their ticket for the Junior World Cup in 2021: Timothy Clément, who already knows the team well of France A, Eliot Curty, also regularly called, and Antoine Croutte, who is retained for the first time with the A.
Also noteworthy is the return of Jean-Laurent Kieffer, who had seriously injured his knee in July 2018 and who had been recalled in Team France only for two courses in early 2019 and upstream of its recovery with his club.